This text was originally called "Fuck Rob Haack". I am not sure how he pronounces his last name, being an American citizen, but it is obvious that it is a Germanic surname which rhymes with "fuck". But even if his family pronounce it differently now, "fuck" suits him so perfectly that it doesn't matter at all.
But who the fuck
is Rob Haack?
It is very hard to believe it, but he is actually a teacher. Last year I was taking a Thai Language and Culture Course at the LICMU (Language Institute, Chiang Mai University). It was a one-year course for the international students, the majority of whom were there just to be able to get a non-immigrant visa and stay in Thailand for various reasons. Just sitting there was enough. The best student and a person who wouldn't be able to say the most simple sentence in Thai would get the same certificate.
Basically, it was all up to your teacher, whether she or he would be interested in really teaching you something. The Institute management didn't really care about us, since the most of their students were the exchange students from the Chinese Yunnan province. They were having the English classes there, and during my breaks, when I wasn't smoking, I used to listen to some of their American teachers through the classroom doors.
And I couldn't believe what I heard. They were teaching the university students things they had surely already learned in high school. In spite of being well-paid for Thai standards, they didn't put a slightest effort to really teach them something, and they were even playing the audio files containing the anti-Chinese propaganda. The "examples" of conversations in English were about the violating of human rights in China, while in their own homeland police officers were killing black people without any reason, and while their own government was breaking the international laws, bombing the countries and killing civilians around the world.
I was sure that the professors of the Yunnan University hadn't been aware of that when they had decided to send their students to Chiang Mai. I was wondering if the Institute staff were familiar with it either, and I was thinking of writing to both of the institutions. But at the time I was preoccupied with my own problems, work and studying, so I decided to leave it for some future moment.
Honestly, I was selfish, too. I was happy after a long time, maybe really happy for the first time in my life. I met the sweetest girl in the world, one of these Chinese students, and for the first time someone was really returning my feelings. It was all very innocent. She was so much younger than me, and I didn't want to use her fascination with the older foreign artist. We just hugged and held our hands, like two kids in love. We could just walk and talk for hours… We both had had very bad experiences with our exes, and we were gently licking each other's wounds.
One evening she told me she was going out with her teacher, who was celebrating his birthday. I wasn't worried, thinking that other students and teachers would be present too, and she promised to call me as soon as she came back. And she did, but it was almost 2 AM, and she was that drunk that she could barely walk. I found out that she had been alone with her teacher, who had brought her to a bar and got her drunk. I didn't say anything, I was grateful for her honesty, for telling me all this and even his name, and I believed her when she told me that nothing had happened.
But I knew what he had tried to do, to get her drunk and abuse her sexually. A loser failed, but I knew he would try again, if not with her than with some other girl, because I had already witnessed him calling another 20-year-old Chinese student on her personal phone after midnight. Having no other way to contact him, I created a Facebook account and found him. Originally from Harris, Iowa (it took me a long time to find that place on the map), he was teaching English at the Language Institute, trying to impress young Chinese girls by telling them how he had always wanted to be a rock star. He was in his thirties, but he had some funny skate-punk-rock hairstyle.
The guy was a joke, but to me it was all very serious, because I could still see her coming back home so drunk. And he wasn't the only one. I found several Western Institute teachers who were behaving the same way, posting shirtless photos and making sexually suggestive comments on their female Chinese students' pictures. Being in a foreign country for the first time in their lives, away from their parents' eyes, they were flattered by the attention of their friendly white teachers, so different from their strict and honest Chinese professors. And judging by their behavior, they just wanted to fuck the young "gooks".
I contacted him, asking him if he thought it was appropriate: taking his young student out so late and getting her drunk. "Don't you think it is a serious violation of academic ethics?" Instead of showing at least some kind of remorse, he called me a "terrorist", which would have been very funny if the situation hadn't been so serious. Just like his government, having no excuse for his dishonest behaviour, he just labeled his criticiser a terrorist. Not thinking about that side of the story at the moment, I went furious and wrote some serious threats to him. We exchanged a few messages, and the guy was fucking illiterate, in spite of being a native English speaker. I had never really studied English, I had just "picked it up" along the way, but my English was perfect compared to his.
Back home, he couldn't find a job at a gas station, and here he was a teacher, adored by his naive and inexperienced Chinese students. That was the only reason he was here, as well as many of his Western colleagues. He was rude and aggressive online, but the first thing he did after that was to complain both to the Institute office and the girl I was in love with. It all apparently went very public and she was so embarrassed. "I just wish I could die right now", was the last thing she wrote to me. She and her close friends (who had used to be my friends, too) stopped talking to me, and I ended up as a bad guy, in spite of the fact that I had just been trying to protect them.
The Institute staff tried to bury it all. When I told them what was going on, they just thanked me for informing them, and expressed their hope that I would keep studying with them. I had just finished my course and applied for the Thai Language and Culture Level 2 Course. I had passed the test and they told me they were expecting me to remain their student. It was what I had been dreaming of: a chance to stay in Chiang Mai for another year, close to Her, and maybe move to China when she came back home… But I didn't want to stay at, nor give my money to, the institution which was hiring people like Rob Haack. And I knew I wouldn't be able to avoid seeing him, and I was afraid that I would not be able to control myself when I saw that scum.
So, I said "No" and, suddenly, my former teacher invited me to lunch. We had been talking about writing a book together, but it was obvious that she had been sent by the Institute staff. "They are both adults", she told me. "They can do whatever they want outside the Institute." She asked me to keep studying with them, too, but I refused to accept her point of view. Then she said that I might be contacted by the police, that he had informed them about my threats. It was obvious that they just wanted me to shut my mouth. I couldn't do that, and when I kept writing about it, she sent me an email, advising me to forget it all, "for my own good".
I didn't care about her treats, I didn't care about leaving Thailand anymore, I just cared about Her. I will never forget one evening, when she was talking about her ex who was cheating on her, and then about her grandfather. Her parents used to work hard, so she was basically raised by her grandfather. "He is very ill now. He can die any moment… I am not there", she said with the tears in her beautiful eyes. She was sitting, leaning her elbows on the table, and I was kneeling next to her, gently patting her on the back.
My visa was about to expire, and I was desperately trying to talk to her. She had blocked my email, and I asked a mutual friend to forward my apologies to her. Then her reply was forwarded to me: "Thank you. Please tell Kosta that my grandpa has passed away."
It was the last time that she responded to my desperate messages. I had to leave Thailand eventually, but I will never forget her. And I will never forget Rob Haack. And I will make sure that he pays for what he has done. A little piece of shit.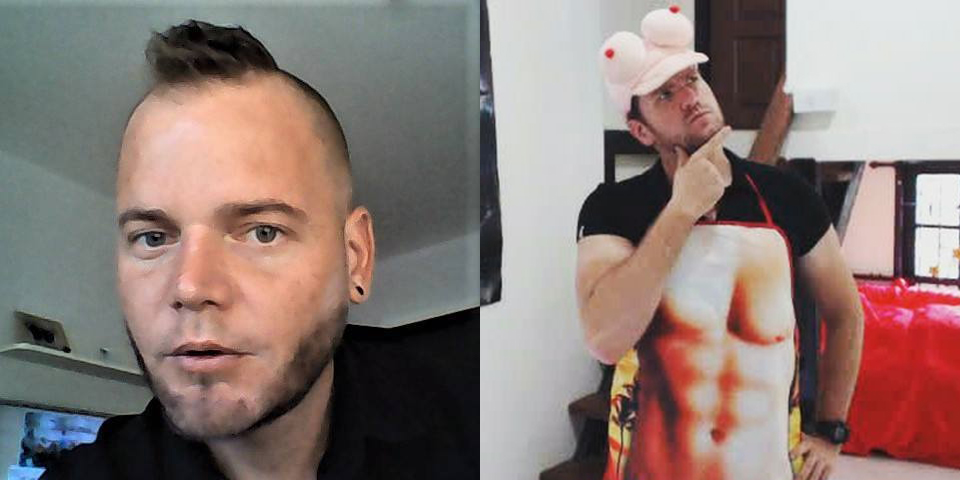 Facebook profile pictures of Rob Haack and Thibault Citroen, his French colleague.